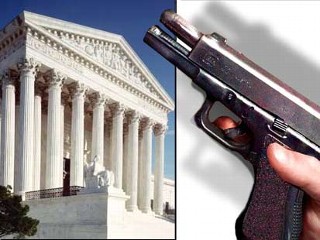 The Supreme Court will decide whether challenges may be brought under the Second Amendment to state and local gun control laws, the New York Times reported today.
The high court will be faced with deciding in a Chicago case whether such laws can be tossed out as violating the Second Amendment's "right to keep and bear arms," according to a Los Angeles Times article.
The court last year struck down parts of a gun control law in the District of Columbia. That decision involved only federal law, and the District is a federal enclave. Prior Supreme Court decisions going back to the 19th Century stated that the Second Amendment does not apply to states, and the court did not tackle last year the validity of those precedents.
By agreeing to hear the case, the court renews a debate over interpretation of the Bill of Rights. Most but not all protections in the Bill of Rights apply not only to the federal government but to states, thanks to the 14th Amendment, added to the Constitution after the Civil War.