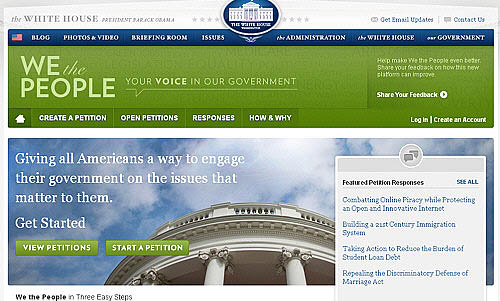 At "We the People," a White House online platform for popular petitions, you can ask the White House to build a Death Star or bar Beyoncé from singing the national anthem at President Obama's inauguration. People have submitted these petitions, a Mother Jones article reports.
There are serious petitions too, including a new one written by a college professor and aimed at reducing the dozens of vacancies on the federal bench that often have been called a "crisis" for our courts. The petition is entitled, "Nominate a judge for every open federal judicial seat by the end of 2013 and push the Senate for prompt action on them."
Patrick Schmidt, who teaches political science and is co-director of Legal Studies at Macalester College, told Gavel Grab he wrote the petition out of concern over "a startling lack of urgency by the Administration in getting nominees before the Senate" and "real concerns of judicial administration at stake."
Here is the petition:
"The pace of nominations and confirmations of judges to Article III courts has been very slow, and it has left federal courts short-handed in the performance of their duties. A President's slate of nominees also shapes profoundly the meaning of justice in the U.S.

"The Senate has been complicit in the historic delays, but the Administration bears responsibility for providing the nominees and agitating for action. With a Senate that is not likely to be any more collaborative after the 2014 elections, the time is now for nominations.

"We urge the Obama Administration to set a target of the end of 2013, by which point it shall have made a nomination for every open federal judicial seat (district and appellate courts) and pressed for prompt action on those nominations."
When Gavel Grab checked, the petition had gained 70 signatures. It had a long ways to go to meet a new threshold recently set for the White House to officially respond. The requirement is for 100,000 signatures in 30 days.
To see recent Gavel Grab posts about concern over unfilled judicial vacancies, click here.